Certificate "Self-management, leadership, and teaching skills"
The certificate "Self-Management, Leadership and Teaching Skills".
The LMU Center for Leadership and People Management provides graduated scientists further education in fields of teaching and leadership issues and the chance to receive a standardized certificate. This certificate serves as proof of competence in the corresponding fields.
Target Group.
Our service is aimed at graduated scientists of the LMU including postdocs, private lecturers, and professors. PhD students will receive a certificate of attendance and after leaving the LMU an overview of all courses/seminars participated in.
Conception.
The certificate is divided into one basic and three advanced courses (one for each area of competence).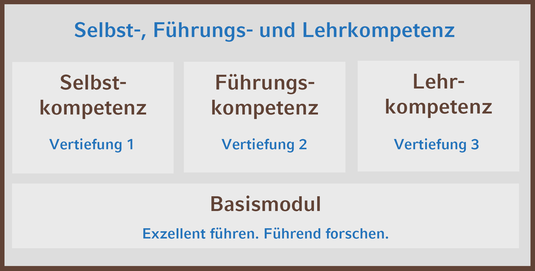 1. Basic Course
The basic course consists of a two-part seminar "Exzellent führen. Führend forschen." As it is a basic course, we recommend that every participant attends this two-part seminar first to learn about basic principles of professional leadership and teamwork.
2. Advanced Courses
Building on the knowledge gained from the basic course, the participants attend three different advanced courses, which deal with three different areas of competence.
Advanced Course 1: Self-Management


These courses deal with personal issues and the participants own strengths and weaknesses. They aim to give specific advice relating to time management, creativity, work-life balance, and the like.
Advanced Course 2: Leadership


These courses focus on topics related to the role of a person in a leadership position. They teach about personnel selection, team leadership as well as various aspects of successful communication. They aim to support employees who are to take on a leadership role, giving advice on the many challenges and responsibilities of an excellent leader. Our approach to leadership is appreciative, yet performance oriented.
Advanced Course 3: Teaching


Research and teaching are two aspects of academia which should mutually enrich one another. These courses focus on the role of a lecturer and provide methodical and didactical approaches to enhance teaching skills.
To receive the certificate, a total of 40 credits must be collected. Of these 40 credits, 6 credits are received for completing the basic module, 8 credits must be attained from completing advanced courses in the fields of self-management and teaching respectively. 12 credits must be acquired from advanced courses in the field of leadership. The missing 6 credits may be attained from any chosen course. The number of credits yielded from each course is closely tied to its duration.