Our Concept
The notion
At its core, the Center for Leadership and People Management represents three cultures:
A culture of excellence.
A culture of fairness and appreciation.
A culture of ethics-based leadership and collaboration.


Targeted staff development for scientists is playing an increasingly important role at leading research organizations. The importance of diverse, evidence-based training opportunities and the relevance of an open and tolerant work environment and health promotion measures are greater than ever. However, personnel development which regards the individual is also becoming more and more important. In addition to professional skills, it is increasingly soft skills that enable and drive a successful career in science. Given that we face an ever rapidly changing world, and a constant expansion of technological possibilities, lifelong learning and continuous professional competence development are of crucial importance.
The implementation
We offer a personnel development program specially tailored to the needs of LMU scientists in the areas of:
Leadership
Collaboration
Communication
Health
Values
Leadership and motivation in the teaching and learning process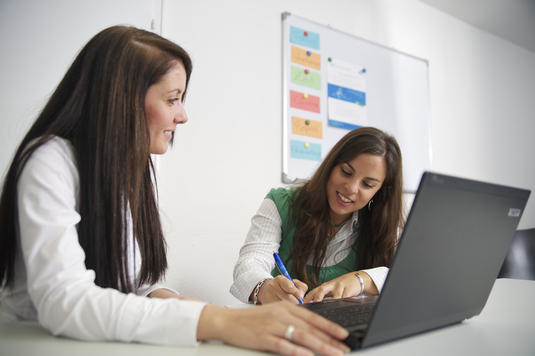 In conveying our content, we rely on intensive training in small groups, lectures, individual coaching, and the exchange of experiences between our participants. On request, we also offer individual consulting services for professorships and research institutions. Our offers also include digital seminars and consultations, which enables location-independent participation. We work with a permanently employed team of experts with backgrounds in theoretical science and experiences in practice environments as well as external trainers and coaches.
If you're interested, it is possible to combine several of our events and conclude them with a certificate for self-, leadership and teaching competences.
Our content is based on the guiding principle "Leading with excellence. Leading in research". Excellent leadership means setting high standards regarding the quality and innovation of work (research and teaching) as well as communicating these standards to one's own employees. At the same time, excellent leadership also implies striving for fair and appreciative interactions with people and considering the aspirations of the employees: aspirations for appreciation, fairness, trust, the conveyance of meaning and comprehensive and honest communication.
We think that excellence in performance, combined with human dignity is not a contradiction but a complement and, moreover, a prerequisite for long-term success. This style of leadership, which attempts to combine humane dignity with an orientation on performance, is referred to as "ethics-based leadership" and forms the foundation for all our events.
The building blocks
1. Demand orientation

Our offerings are continuously adapted and improved based on results from needs analyses and seminar evaluations. Therefore, they take into account current developments in science and personnel development. In accordance with the respective stages of the scientific careers, our program offers different events specifically tailored to the target groups. Our education formats are flexible and are continuously adapted to the individual contextual conditions, among them: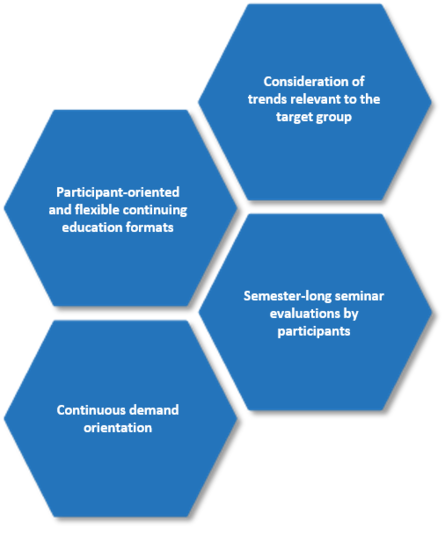 2. Scientific foundation
All of our personnel development measures represent a unique offer, especially due to their systematic and scientific foundation. All employees and internal trainers are required to complete their doctorate and / or habilitation. A scientific foundation of the training concepts is furthermore ensured by well-founded accompanying research on the topics of leadership, collaboration, and communication as well as the promotion of innovation and top performance in science and business. We offer:
Validated concepts
Secured learning transfer
Separate evaluations of each event
Academic competence of trainers and coaches
Accompanying research on key topics
3. Alignment with the strategic goals of the LMU
The basis for the strategic orientation of the Center is the Institutional Strategy of the LMU Munich, which is based on five pillars:
Academic excellence
Promotion of young scientists
Interdisciplinarity
Internationality
Equality
The result
Every semester, we offer about 50 courses created specifically for scientists of the LMU. As proven by our participants' reviews, our offerings enjoy great resonance with our target groups. Especially highly acclaimed is our WissensWert@CLPM series, which features in-depth discussions with renowned experts on topics such as leadership or self-management.
We would be happy to welcome you in one of our next courses!
Further links
Image flyer Center for Leadership and People Management (PDF) (1,91 MB)